Air Purifier That Protects Your Family
The Membrane Solutions MSA3 Air purifiers are perfect for families with kids and pets as they can cover a large space. It guards your kids against pet hair and pet dander, allowing all your family members to breathe clean air and protect them from allergies.
WHY MEMBRANE SOLUTIONS MSA3 MEDICAL-GRADE TRUE HEPA AIR PURIFIER IS A GOOD CHOICE?
Membrane Solutions MSA3 is equipped with the latest turbo air control technology. It has better purification performance that generates stronger airflow and purifies indoor air in the shortest of time. With a CADR value of 112CFM and can cover a range of up to 840 square feet. It has a 3-stage filtration system that can effectively capture 99.97% of fine particles in the air. It neutralizes bacteria and germs. And traps odor molecules of all types, pets, and cooking. With 3 fan speeds where you can choose different wind speeds according to your needs to ensure the best experience. And an ultra-quiet design with a noise level of 25 dB in sleep mode, so you can sleep in a restful and soothing environment. Plus, it has automatic shut-off features and 8 hours timer. We recommend using the maximum mode for deep purification when using it for the first time.
MSA3 Air Purifier Test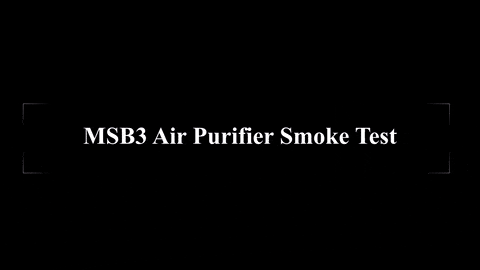 360° Air Purification
360° Upgraded Purification Performance, imported HEPA Filter, and High Efficiency Activated Carbon Filter remove 99.97% of odor and large dust particles, pollen, pet dander, dander, and PM 2.5. Effectively improves the air quality.
Premium 3-Stage Filtration
With 3-Stage Filtration consisting of Pre-filter, Medical Grade True HEPA filter, and Activated carbon filter. This air cleaner's cleaning efficiency is 30% higher and its cleaning speed is 30% faster than other ordinary air purifiers. Protecting you from pet litter box smell and others.
Turbo Engine, Lower power consumption, Higher Operating performance
MSA3 large room air purifier has a turbo engine a has lower power consumption than other air cleaners as well as a 30% higher operating performance.
Powerful Purification
With a CADR of 112CFM, it can clean 252 ft² in 18 minutes, 420 ft² in 30 minutes, and 840 ft² in 60 minutes.
Safety Guaranteed
The Membrane Solutions MSA3 Large Room air purifier has received certifications from the Electrical Testing Laboratories(ETL), the California Air Review Board (CARB), and CE & RoHS Certification.
Specifications
Brand: Membrane Solutions
Model: MSA3
Material: Metal + Plastic
Color: White
Maximum Coverage Area: 840 ft²
Optimal Coverage Area: 247 ft²
HEPA Level: Medical Grade
Filter Life: 6 Months
Number of Speeds: 3
Fan Speeds: 3
Voltage: 110V
Noise Level: 25-47dB
Weight: 12.34 lbs
Energy Star: Complaint
Power Supply: AC 120V/60Hz
Dimension: 7.7″ x 13.2″ x 21.5″
Package Includes:
MSA3 Air Purifier
MSA3 Medical Grade HEPA Filter
User Manual
2 Year Warranty