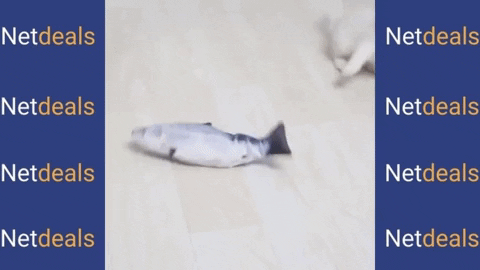 This Electric wagging fish cat toy can make your cat move, watch or jump to promote movement, which is good for reducing stress levels and improving physical agility. It has a clear and realistic fish-shaped design using 3D printing technology. Made of durable pure cotton, soft and comfortable, non-toxic, excellent for biting, chewing, and kicking. It has a built-in touch sensor, so the fish cat toy can automatically flip and flap whenever your pet touches it. Thus, stimulates the interest of your excited cat. When you are not at home, this fish toy can be the best playmate for your cats. This can keep your cat entertained for hours.
This plush interactive cat toy is filled with catnip and has a strongly aromatic scent that excites your cat and relieves her depression and stress. Measures 5 inches wide and 12 inches long. And can be charged via USB and takes 70 minutes to fully charge and can continue to oscillate for about 40 minutes. It has a newly upgraded zipper design that protects the motor and prevents the motor from falling. Plus, it has a detachable injector motor for convenient cleaning of the plush toy.
Product Features:
Plush Material: Soft and does not hurt cats' paws, made of high-quality plush fabric filled with pp cotton
Built-in Touch Sensor: Will automatically move and make a sound when your cat touches the fish, which can attract your cat to play and kick, keeping your cat physically fit and mentally active
Infused Catnip: Has a calming and relaxing effect on the cat's mood because it is filled with organically grown catnip
USB Rechargeable: Saves huge battery costs because this flopping fish cat toy can be charged in cycles with the USB cable is included in the package
Easy To Clean With Zipper Design: Detachable injector motor for convenient cleaning of the plush toy
Instructions for Use:
Unzip the zipper, turn on the switch, and then click the fish maw to make the fish wag its tail. The red light is on when it is charging and it will turn off when fully charged.
Specifications:
Item Type: Pet Toy
Material: Cotton + Plush
Battery: 320mAh
Size: 10.3 x 3.5 inches
Package Include:
Cat Wagging Fish Plush Toy x 1
USB cable x 1
Catnip x 1